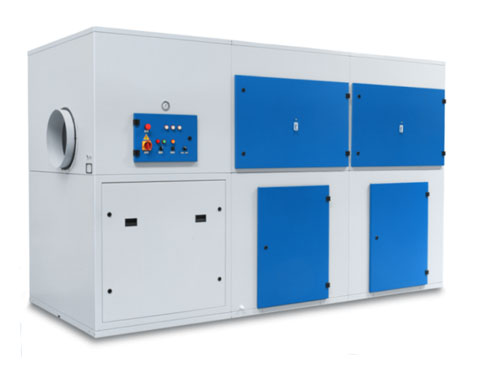 PRODUCT OVERVIEW
Plug and play stationary extraction system for dry dust and welding fumes with airflow range of 7000 m3/hr – 28000 m3/hr.
SPECIAL FEATURES
Filter, fan and motor, automatic cleaning system with control panel are assembled in the factory and delivered to the enduser.AC filter units with their compact design are ready to operate.
High efficient ventilators that have backcurved blades are directly coupled to motors. The impellers up to 11 kW motor size are made of aluminium. The impellers that have motor sizes bigger than 11 kW are made of steel.
Cartridge filters made of polyester non-woven are standard on AC dust collectors. They arrest 0.2 – 2 micron particles with 99.9% efficiency. Dust Class M acc. to DIN EN 60335. Cartridge filters have a temperature resistance up to 80C.
The filter unit is equipped with automatic jet-pulse cleaning. Cleaning pressure is 4-5 bar.
Control panel and the differential pressure gauge that start-and-stop jet pulse cleaning automatically are standard on AC dust collectors. Dust level indicator of filter elements and pressured-air regulator are also replaced inside the filter unit.
Static and dynamic balanced impellers with silencers ensure low sound level < 70 dB (A).
Standard models of AC filter units are produced to use inside (for indoor applications).
OPTIONS
Aluminium coated cartridge filter elements can be used for anti-static applications.
Teflon membrane(PTFE) coated cartridge filter elements can be used.(For applications to capture very small and tiny dust particles.)
AC filter units can be equipped with explosion panels to minimize the risks associated with dust explosions. Flanged fitting for clean air-outlet is available to exhaust the clean air outside.
When looked from the door side (front view), the contaminated air-inlet is always on the right-hand side for standard AC filter units. If necessary, the contaminated air-inlet can be produced on the left-hand side.
Ventilator with ex-proof motor and filter unit with ex-proof valves are available on request.