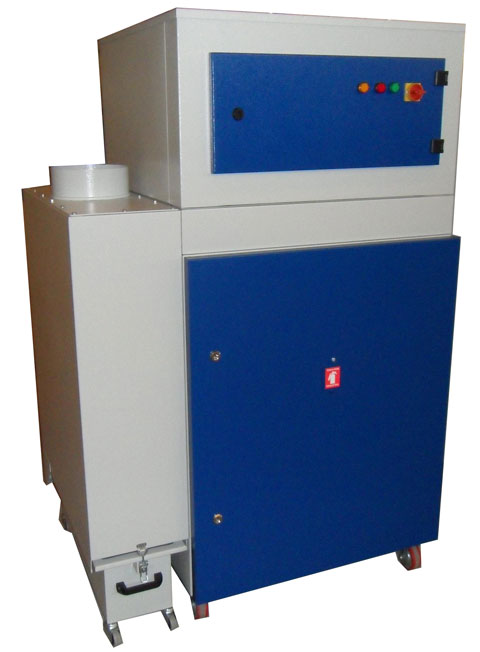 PRODUCT OVERVIEW
Bloc filters are designed for continuous duty application for extraction of all types of dust, chips and fumes. These models can be used as mobile units for individual work stations or a central dust collection system for extraction from various points.
SPECIAL FEATURES
The motor is placed inside the filter unit, to provide low sound level during operation.
The filter unit can be easily equipped with HEPA filter chamber or Carbon filter chamber later after sales, on customer request.
Easy maintenance for motor, fan and filter elements with the hinged front covers. User friendly front covers are simply locked or unlocked.
Cartridge filters are made of polyester non-woven. Dust Class M acc. to DIN EN 60335. Cartridge filters have a temperature resistance up to 80 C.
The filter unit is equipped with automatic jet-pulse cleaning. Cleaning pressure is maximum 5 bar. The pressure regulator and the differential pressure gauge that starts-and-stops jet pulse cleaning automatically are standard.
The pressure gauge near the control panel indicates the pressure loss across the filter cartridges.
Easy to mount carbon filter box, leakage-free with the help of brackets inside the carbon filter chamber. The carbon granules are not included, the enduser must add the carbon granules into the box.
HEPA filter is also mounted with the brackets inside the HEPA chamber and provides %100 leakproof assembly. HEPA filter is not included, the enduser must add the HEPA filter.
The control panel is mounted on the side face of the filter unit. Motor control is made simply via motor protection switch, providing high safety.
The dust tray (with 12.5 liter volume) is placed under the filter unit, in the leakproof chamber.
The pre-separator container (with 30 liter volume) is placed on the left side of the filter unit. The leak-proof container can be removed easily over its wheels.