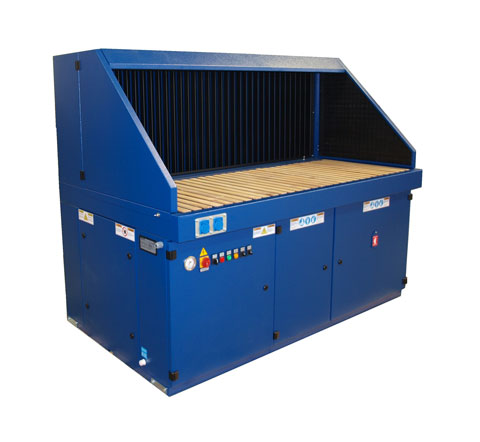 PRODUCT OVERVIEW
KTM-Series grinding and welding tables are ready to operate (Plug-n-Play). These are downdraft and backdraft tables which are designed specifically for fume and dust extraction.
SPECIAL FEATURES
KTM-series workbenches are ready-to operate (Plug-n-Play) with integrated Filters, fan-motor, spark separator,silencer and control panel.
KTM-series workbenches are equipped with Dust Class: M polyester non-woven cartridge Filters (acc. to DIN EN 60335-2-69 standard).
As optional, PTFE membrane Polyester filters are recommended for high alloy steels with high Chrome and Nickel contents.
Power Supply 400V, 3P N PE ~ 50Hz (Standard). (other power supply configurations available upon request )
As standard, high efficient, backward curved, and directly coupled fans made of aluminum, are statically and dynamically balanced (G2,5).
Semi-automatic jet-pulse filter cleaning is activated by operator during normal operation conditions when filter cleaning is needed.
Easy to access to dust drawers.
Integrated pressured air regulator (0-10 bar). Min. pressured air supply should be higher than 6 bar.
Standard units are designed for Indoor use only.
As Optional for sensitive work piece surface qualities, KTM-series can be equipped with wooden bars for top surface.